It's 8:45 on Thursday, & the Office is Buzzing
Now that our Madison office is on three different floors, you might expect that our activities feel spread out and a little isolated. But last night, it felt like we owned the building. It felt like a hive buzzing with energy and effort.
After meeting with our new eight new communications interns (who will help us saturate weekly and student newspapers with vote no messages in the next 40 days), I was inspired to check out every floor and capture what I saw in photos.
The finance staff lives at the office, I swear.
We just happened to have some of our long-time volunteers together in one room last night. That's Tom with three members of the Greane family. They have all been volunteering with us since 2004 or even earlier.
Debra and Shana Greane's children are superstars. When we first started organizing phone canvasses, they were there, and Rykaela, who was 12 at the time, was one of our best.
Finance staffer Joe talks with Shana Greane.
Down on the third floor, Rachel Strauch-Nelson (right) meets with our new communications interns. They have ambitious goals of placing op-eds and pitching features to every student newspaper in the state. A few will also work on outreach to Wisconsin's over 200 weekly newspapers.
Matt Berg (center) is one of the lead interns. He's helped with field efforts but more recently he worked on outreach to labor newspapers across Wisconsin, and is now helping to coordinate student media. He also blogs over at
Students for a Fair Wisconsin
.
On the other end of the third floor, Pabitra and volunteers work the phones.
More volunteers spread out through the office....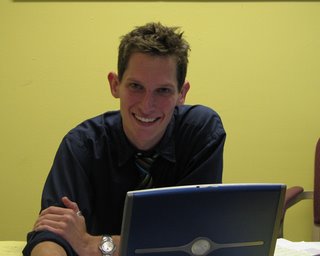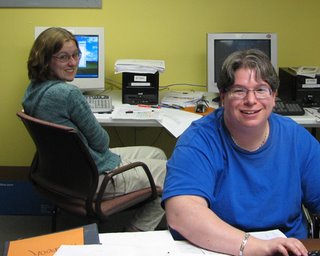 Then I took the stairs to the first floor office space....
Every day, more people keep showing up. They want to help. They want to stop the ban. We have become a real movement of people, a groundswell from every region of this great state.
We're going to make it happen.