I Voted No Today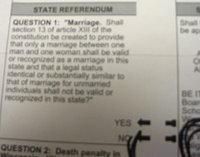 This afternoon a couple of us walked over to the City Clerk's office to vote early. I've never voted early before, so wasn't quite sure what to expect. It was, of course, quick and easy and basically just entailed asking for an absentee ballot, writing my name and address on a few things, and casting my vote.
Here in Madison the ban is "Question One" under referendums on the back of the ballot. Unfortunately the ballot is going to look different for different municipalities across the state. In some places it's on the front of the ballot, some on the back, and it isn't necessarily "Question One" everywhere.
Connecting the arrow to the word "no" was a pretty exciting moment. It was definitely weird to finally see the text of the amendment in front of me to decide.
Has anyone else already voted? I'm curious what it felt like for you when you saw the ballot.